At the Los Angeles premiere of Crazy Rich Asians, our Singaporean actresses looked like they were dragged to a Mediacorp event
Fiona Xie. There are dresses and there are fabrics folded and bunched at the waist. Maybe this is so that you can stretch your right leg to over there? Or, were you auditioning for So You Think You Can Dance too? Photo: AFP
By Mao Shan Wang
What is it about the red—or green—carpets of Los Angeles that makes Singaporeans stepping on them sartorial mishaps? Or is there something in our DNA that prevents us from looking smashing wherever we are, for whatever we do? I can overlook the blunder a journalist, who's a movie-land greenhorn, can make, but for seasoned actors on the carpeted pathway to a movie premiere to look like they were dressed for the corridors of the Mediacorp studios is as puzzling as the media's love for calling Julie Tan a "Singapore sweetheart". You are not at 'The Red Curtain Artistes Arrival'; you are not at the Star Awards!
"Crazy Rich Asians cast stuns on the red carpet in wildly opulent fashion" read the news feed that appeared on my social media page. You bet I was stunned. For all the talk about the Kevin Kwan novel-turned-movie's "crazy rich fashions", our Singaporean cast's turn out at the film's premiere on Tuesday was everything one usually fears for the Icon Ball. Perhaps this was their not-the-Life-Theatre-Awards night and the actresses felt emancipated: the perfect chance to show their up-to-now unexpressed glamour.
Tan Kheng Hua. Maybe you're still role-playing. Otherwise, why fly over 14,000 kilometres to LA to look like Xiang Yun's long-lost sister suffering from an irrational fear of wardrobe malfunction? Photo: AFP
Still, we're really not expecting much—I know I wasn't. Actually, I dared not. These actresses are, after all, not models. I'm clear about that. Their relationship with fashion is, at best, a casual one. They dedicate their lives to their art, not clothes, which is possibly rarely broached. For some, in fact, the only fashion designer in Singapore is Frederick Lee. That's not surprising since Mr Lee is to the English drama circle what David Gan is to Channel 8. To compound the situation, gowns are probably not a staple in their wardrobes. So, when an occasion calls for one, fantasy or the princess syndrome strikes.
There could also be the possibility of the pressures of the red—oops, green, er, "jade"—carpet appearance. You were, after all, going to be sharing the photo wall with bigger—way bigger—stars and Hollywood premiere regulars such as Michele Yeoh, and you knew she would be dazzling. And while you may not out-dazzle her or any of them, you do not wish to appear as a cast member of a B-movie crashing the premiere of a major studio release. So you try harder. Effort, unfortunately for those who depend on it, does not always look effortless, and too much effort just looks, well, too much.
Constance Lau. The cheongsam has a rather sad recent history. It can't be its true self: it has to be re-imagined, it comes in parts, or is fringed to hide private parts. Sometimes it morphs into a nightmare that's better confined to a bedroom no one should enter. Photo: AFP 
Janice Koh. You're an Ong Shunmugam super fan, we understand, and you want to do Singapore proud by wearing something that has ethnic cred—comprehensible, but this is the premiere of the film you starred in, not its untimely funeral. Photo: Getty Images
By too much, I do not mean Cher-much. Or the excesses of the starlets/wannabes at the Golden Horse Awards. Or the heat that melts letters on photo walls! Too much can be in the form of an overly-high bustier bodice such as that on the Ralph & Russo gown Constance Wu wore, and the ridiculous fringe-as-sleeves that went with it. Or, the folds of fabrics radiating from Fiona Xie's snugly sashed waist. Or, the breast-dusters Tan Kheng Hua passed off as earrings ("tetek ticklers", a friend calls them!). Or, whatever you call that, bursting out of Selena Tan's bosom. It is admittedly hard to be judicious about what strikes the right balance on a red carpet. Even Nicole Kidman isn't always the belle of the ball. Does that not mean that one should err on the side of modest, especially if you're not a red-carpet pro—designers too?
While the Singaporean stars did not serve a style fest, they should be commended for choosing to stand up for Singapore fashion. Still, I would have preferred that did choose. Select! Pick out! Fine, you like obscure labels such as Time Taken To Make A Dress or to allow your makeup artist/stylist to influence you, but surely there must be something that does not look like it really takes that much time to make, but doesn't cover that much. Or, if you adore Ong Shunmugam, choose something that does not look like a cheongsam meets chasuble, something not severely all-black, something that does not suggest you're attending a funeral or entering a nunnery.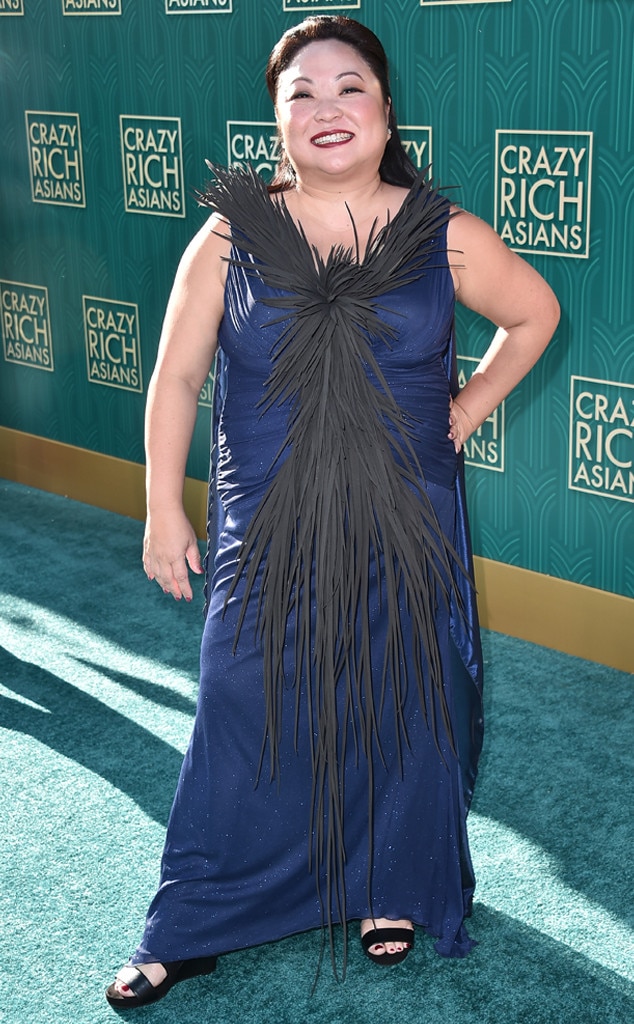 Selena Tan. After letting whatever that is sprout and cascade from your cleavage, did you forget you were going to a movie premiere when you stepped out in those Tiong Bahru market sandals? Photo: Getty Images
Koh Chieng Mun. We get the Nonya references and that you were eager to shed the Dolly frumpishness. The problem is, brocades tend to look better on empress dowagers. Maybe it's better to channel Ronda Chieng? Photo: FilmMagic
It is amusing to see our actresses adopting "the Asian look" as if it were a pet. As far as I am aware, none of the characters in Crazy Rich Asians wear cheongsams or a version with those lame, stout, loose-fitting mandarin collars. Certainly not Astrid Leong, who, in the book, pairs Yves Saint Laurent le smoking with batik shorts bought from a Bali street vendor. We simply do not have such whim and derring-do among us. When it comes to modern representation of our city-state, cheongsam shapes/details are de rigueur. It seems that for our clothes abroad, we think and choose like a politician's wife. We pander to the West's sense of Eastern exotica. We bring along a marketing message: Visit Singapore.
And if that message gets across, visitors will come to our city and they will be amused to see a population largely in T-shirts and shorts and flip-flops—our true national dress. This was one chance to show the world we can look better than that, but no one reached out for the stars. The attendees at this one Hollywood premiere can perhaps say that, as a nation, we do not dress well frequently enough, and when the occasion calls for well-dressed, we can't pull it off convincingly. Well-dressed is simply not our second skin. And I doubt anyone, always too bothered by our muggy afternoons, really cares.